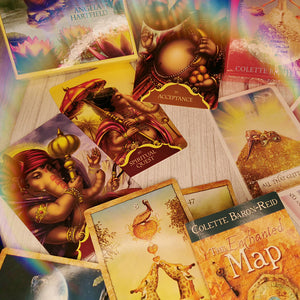 During a card reading session, the oracle cards serve as a medium to bring forth advices and messages that the higher beings has about the question/situation.
At crystals cube, we use oracle cards rather than the tarot because oracle cards have more straight forward messages that gives better understanding. 
Do note that all cards reading only serve as advice and is NOT to be taken as clear instruction or replacement for medical advice. (For its sensitive nature, we don't do readings regarding medical conditions. Please consult a licensed healthcare specialist for professional medical advice.)
Conducted by Rave
Energy exchange - $30
What is included?
We will give you a crystal tumble that helps to support you in the question / situation that you are asking about.
Free normal local mail by Singpost (Click here for other shipping options.)
*Oversea shipping is available, please contact us if you would like to get an estimated quote.
How to proceed?
WhatsApp your order number & registered name in your account or a screenshot of that to Rave @+65 9026 0092
Share with us your question.
We will show you the cards that show up and explain the message together with some advice for the situation.
FAQ
Q: What's the difference between conducting oracle carding reading with a card reader and doing it myself with my own cards?
A: Sometimes, even for an intuitive card reader, people could be too emotionally involved, hoping for a certain result and having assumptions.
Getting a card reading from a reader with neutral stand can provide one with a clearer point of view, and help us see from another perspective.
Q: What is energy exchange?
A: Despite on the time spend, by conducting energy work such as energy reading, card reading & etc., the reader will give away positive energy as well as helping their clients by taking in some negative energy. If the reader gives too much, it will spoil the karma (cause & effects) balance, which is not good for both parties. 
Q: Is there an expiry date if I purchase this service?
A: Yes, please redeem this service within 30days of your purchase, your order is will marked fulfilled in our system upon expiry. If you're unable to redeem before expiry, please contact us before that.
Q: Can I do a refund or exchange if I changed my mind?
A: Our company don't have refund policy. However, you may exchange for other products or services in our website. As we merged our online store for crystal with our partner,  Crystal Tale, you may exchange for products in their website too. Please contact us for the exchange.
* The reading is considered as started after sending us your question. Exchange will NOT be applicable.