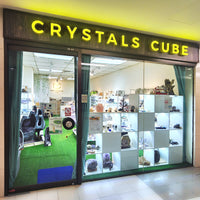 Welcome
Crystals Cube is a place for healing crystals and holistic guidance located in Singapore.
We value and understand the uniqueness of each individual. As life has become more challenging, we hope to bring more joy and assist others to reach their higher potentials, by helping to find their most suitable crystals and providing advises. Let there be more joy on earth 😊
About us
Our Authorized Online Store
Our lovely crystals will be available at our authorized online store @ Crystal Tale
Feel free to contact us if you can't find your crystal of interest at Crystal Tale and we will do our best to assist you. 😊
We have too many items so we can't upload everything online yet!
Shop here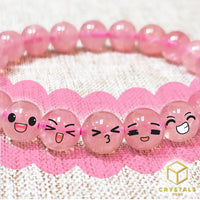 Crystals Cube Bracelet - Handpicked & Strung In Matching Sequence
At Crystals Cube, we handpicked to string our bracelets bead by bead, making sure that they are matching and strung in a good sequence with the right energy flow. So that the whole bracelet synchronize and create a strong harmonious joyful synergy!
Learn more & get yours now!
Cleansing for Crystals & Space
Testimonial
Had my first intuitive reading with Rave. It was a comprehensive session. I felt comfortable during the sharing as Rave was patient in listening to my concerns and prompted questions to help my situation. She was able to give detailed and realistic advice as well as resources platform which was what I needed most.After that, she assisted me by finding matching bracelets according to my current needs and personality. No hard selling was involved !Overall, it was an excellent session and I would highly recommend her services and crystals.Thank you for your step by step guidance and making my day filled with hope 😀😊😄

Tan Wan Qing
I have been going to Crystals Cube for years. This shop is amazing. It is beautifully organised with calm and lightly scented with Palo Santo.

I love the way Rave personalised my crystal bracelets & necklaces, and I always walked out with gorgeous pieces that were reasonably priced.

I have had several readings and chakra sound healing. Rave is very friendly and personable, I am grateful for the amazing reading which provided me with validation and practical guidance.

Rave has been insightful, understanding and accurate. Highly recommend!

Wanxin T
Rave is super helpful and she has great knowledge on crystals, rocks and fossils etc. She is easy going, take pride and time in sharing, selecting the right pieces to boost my chakras as a start. My 2nd visit today is as awesome as my 1st in a single week. It was a very pleasant and fulfilling experience for me!

Juddee Ngieng
Rave from Crystals Cube will customize and handpick the best crystals that suit you. If you are into new age healing and believe in the metaphysical properties of crystals, this is the place to go. Just like how not oranges or all strawberries will taste the same, all rose quartz or all citrine will differ from each other piece by piece. The staff at Crystals Cube will handpick the correct crystals that suit you best and not just randomly sell you one. Personally I have went into the shop wanting to buy a more expensive crystal, but was always dissuaded from it because from their expertise, the crystal I want is unsuitable for me. There are many crystals shop up and coming these days but most of them have no knowledge of energy work and are just selling random pieces of rocks without any understanding. Go to Crystals Cube if you want something that suits you personally, they offer a high level of service, beyond what you can find in the many shops out there.

Renzokuken
Rave is very helpful and I really feel that she care for your well being. If you are looking for a reliable and good quality of services and crystals. Crystal cube is the right place!

Yumi Furutani
Ive been back a couple of times now. Rave has a gift. She's amazing. She has a way of reading energies, falling into sink with your current emotions, helping balance you out. This shop is special and so is she. 💗

Lisa Davern
My all time fav place for crystals. The owner is very knowledgeable in her field of work and customised crystals for me not only based on what I am looking for but also based on my energy field. I was looking for crystal wands and she shares how I can customize my "wand" based on diff crystals, which I thought is really amazing. She teaches me how to pair diff crystals and ways to hold them, so that the energy flows like a wand and also aligns according to my own energy. And the energy of the pieces choose works in harmony with each other, which is really important so that they don't cancel out each others effect. She also shares info and the best ways to hold and place them during my meditation so that the energy flows properly. By the way, the crystals in her shop are well cleansed (you can feel for yourself). To top it all off, the prices are at a very affordable rate. Have been buying from this shop for years actually. Always my first choice for crystals. Overall, this shop deserves more than a five star! Don't just walk out if you don't see what you are looking for. Have a chat with Rave and see how she can help. I'm so glad the crystal "wands" I got are more than a traditional wand. Love them!

Germaine Kwan
The best natural stones and crystals shop I've found in Singapore. Large choice, good prices and very friendly and kind staff. Many thanks for your help and consultation!

Alina Grankina
Thank you very much! Very friendly and helpful, was being offered useful advicesImpressive with the knowledge of the store personnel - Rave Wong! She is very patience, knowledgeable and helpful (not forgetting the friendliness)! Every crystals was specifically picked to match my energy. She took about 2hours to explain to me each crystals, their healing energy. It was ended with her writing down the name of each crystals I got. The price was reasonable! Highly recommended to visit and find out more for urself!

Ai Ying Ong