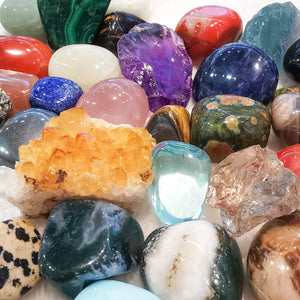 With Free Crystals!
(worth up to $50).
Energy exchange - $49.90 
 "Which of my chakras needs to be balanced?"
"There are many different types of crystals for the same chakra; which one is best for me?"
Each of us is an individual with our own distinct energy/aura, and we function best when our chakras are open and balanced.
The Crystal Chakra Energy Reading helps to understand an individual's current energy flow and chakra status, and thus determines which types and specific pieces of crystals are appropriate for balancing those chakras.
As even the same type of crystal does have some differences in their energy, we will handpick a set of crystals (worth up to $50) that are most aligned with your energy and give them to you free of charge.
Alternatively, if you want to get other crystals that cost more than $50, simply top up the difference.
No birthday/details/touching are required.
All we need is to sense the aura of the person you want to give a crystal to by looking at recent photos of them.
What is included?
We will let you know if any of your chakras are out of balance, which is causing problems, and we will recommend the best type of crystal(s) and specific piece(s)* for you. And explain how this could help you feel better.
*Just like humans, each crystal has its own vibe. In terms of energy, some rose quartz is more relaxing than others, while others may be better at emotional healing, and so on.
We will recommend crystals that are compatible with your energy and will scan all of the crystals in our shop to handpick those that can balance your chakras and are the most synchronized among themselves.
Free normal local mail by Singpost (Click here for other shipping options)
*Oversea shipping is available, please contact us if you would like to get an estimated quote.
How to proceed?
WhatsApp your order number and registered name from your account, or a screenshot of it to Rave @+65 9026 0092
Send us three recent photos from different days that show facial features. (As recent as possible for greater accuracy.)
Let us know which areas you want to improve, or we can just make suggestions based on the reading.
The entire process could take several days. If there is too much to explain in text, we may need to call you.
FAQ
Q: Can I use this to get someone crystal?
A: Of course! All you have to do is send us their photos, as mentioned above. In fact, many of our customers purchase this for their loved ones. You may also give this as a gift to your loved ones if you prefer to let them share their needs with us in person. Simply tell us who you're giving it to and have him/her tell us the order number and registered name in your account, or send us a screenshot of that.
(Please keep in mind that, due to privacy concerns, we may not explain why we chose specific crystals for your family or friend unless we are doing the reading directly.)
Q: Does this service have an expiration date?
A: Yes, please redeem this service within 30 days of purchase; otherwise, your order will be marked fulfilled in our system when it expires. If you are unable to redeem before the expiration date, please contact us immediately.
Q: If I change my mind, can I get a refund or exchange?
A: Our company does not offer refunds. You may, however, exchange for other products or services through our website. Because we merged our online crystal store with our partner, Crystal Tale, you can also exchange for products on their website. Please notify us before sending us photos for exchanges.
* The energy reading is considered to have begun after you sent us the photo. There will be no exchange.
Q: What exactly is energy exchange?
A: Regardless of the amount of time spent, by performing energy work such as energy reading, card reading, and so on, the reader will give away positive energy while also assisting their clients by taking in some negative energy. If the reader gives too much, the karma (cause and effect) balance will be thrown off, which is bad for both parties.